March Branch Program
Woman Entrepreneur Facing Challenges:
Sue Langley, Owner of Sue's Silk
Tuesday, March 9, 2021, 7 p.m.
Meet via Zoom
Sue Langley began her business because of the desire to do something with her sister. Since they love anything silk, Sue decided to focus on silk for her first business trade venture. While her business is in Vienna, she sells only through the Internet at Sue's Silk.
Sue will tell us how she began her small-scale business. By seeking to help a cottage industry in Thailand, she realized she could create jobs for women while doing something she enjoys. During the program she will describe how she designs and orders her products.
She and her sister have had to make many adjustments: to industrialized competition in what was once a cottage industry; to changes in what people wear; and now to the pandemic. She currently includes a variety of silk masks in her inventory.
We invite the public to join us for this free program.
Please contact us in advance to receive the Zoom link.
---
AAUW and the New Administration
On January 19, 2021, AAUW CEO Kim Churches issued the following statement:
AAUW is thrilled to learn that the Biden-Harris Administration has created a White House Gender Policy Council, a team charged with implementing 'a government-wide focus on uplifting the rights of girls and women in the United States and around the world, restoring America as a champion for women and girls.'
We are even more delighted that the Council will be co-chaired by Jennifer Klein, chief strategy and policy officer at TIME'S UP, and Julissa Reynoso, the incoming assistant to the president and chief of staff to First Lady Dr. Jill Biden. Both women have broad and deep experience fighting for gender equity, and we know they have the wisdom, experience and right-minded approach to advance women's equity. Read more here.
---
Get Paid What You're Worth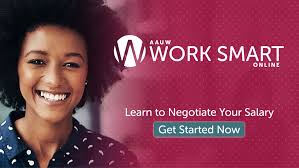 Take AAUW Work Smart Online, a free one-hour salary negotiation course. It is designed to help women negotiate for a new job, raise, or promotion.