Civil Rights in Alexandria
Tuesday, Feb. 25, 2020
Patrick Henry Library
101 Maple Avenue E, Vienna
7 pm, Doors open
7:30 pm, Program begins
Were you one of the many who enjoyed the PBS drama "Mercy Street" several years ago? Audrey Davis, our February guest speaker, certainly watched it. She was an on-set historical consultant for the show.
A past president of the Virginia Association of Museums and the Alexandria Historical Society, Ms. Davis was appointed Director of the Alexandria Black History Museum in 2014. The mission of the museum is to enrich the lives of Alexandria visitors, to foster tolerance and understanding among all cultures, and to stimulate appreciation for the diversity of the African American experience.
Join us in February to hear more about the contributions and history of Alexandria's black residents.
This free program is open to the public and co-sponsored by the Patrick Henry Library.
---
Four Black Women who Fought for Gender Equality
This year marks the 100th anniversary of the adoption of the 19th Amendment, a milestone in securing women's right to vote. But it wasn't until 45 years later, when the Voting Rights Act of 1965 was passed, that women of color were granted the right to vote.
Although black women have often been leaders and innovators in the fight for equality, history has a tendency to erase their legacy and voices. So, in honor of Black history month, here are four amazing women of color who have helped fight for — and win — greater equality for women. Read more about them here.
---
Get Paid What You're Worth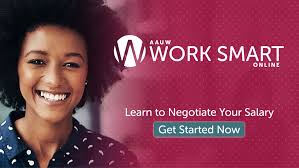 Take AAUW Work Smart Online, a free one-hour salary negotiation course. It is designed to help women negotiate for a new job, raise, or promotion.