Exploring Social Justice in Policing and Education
November 16, 2020, 7:30 p.m.
Please register at Contact Us
by November 12 to receive the Zoom link.
We are honored to have four distinguished guest speakers this month who will share their experience and knowledge in two areas of current relevance.
Social Justice in Policing
Hunter mill District Supervisor Walter Alcorn will discuss current initiatives in the Fairfax County Police Department. Shirley Ginwright, Chair of the Fairfax County Communities of Trust, will talk about their role improving relations with the Fairfax County community.

Social Justice in Education
Leona Smith-Vance, Director of Equity and Family Engagement at Fairfax County Public Schools, will join Sean Perryman, President of the Fairfax County NAACP. They will discuss social justice concerns and initiatives in the county school system.
This program is a joint presentation of three organizations:
— AAUW Vienna Area Branch
— Optimist Club of Greater Vienna
— Virginia State Organization, Delta Kappa Gamma Society International, Alpha Nu Chapter
This free program is open to the public. Please register at Contact Us by November 12.
---
 The Impact of COVID-19 on Women's Economic Security

A major focus of AAUW is economic security for women.
The 2020 update to AAUW's report, The Simple Truth about the Gender Pay Gap is now available. It focuses on the impact of the COVID-19 pandemic on women's economic security, the projected rate of change for the closing of the gender pay gap based on race, and the work that must be done by policymakers and employers to accelerate that narrowing.
Also, AAUW CEO Kimberly Churches wrote an opinion piece for Newsweek on October 26, 2020, on the topic, "COVID-19 is A Nightmare for Working Moms. Policy Makers Must React." Read her informative article here.
---
Get Paid What You're Worth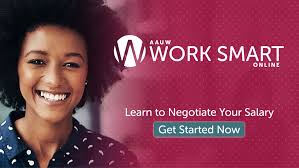 Take AAUW Work Smart Online, a free one-hour salary negotiation course. It is designed to help women negotiate for a new job, raise, or promotion.