AAUW Stands Against Racism
AAUW CEO Kimberly Churches sent the following email  to AAUW members on June 2, 2020 :
During this troubling time in our nation's history, I hope you are being kind to yourself and others. It feels almost unbearable to witness the anger and anguish erupting in our cities as we also endure a relentless pandemic and economic downfall. The murder of George Floyd serves as a tragic reminder of centuries of racism, violence and lack of humanity for Black people. We join the country in mourning his loss as well as the deaths of Ahmaud Arbery, Breonna Taylor and countless other people of color who have been unjustly killed.
But while we are deeply sad, we mustn't feel helpless. Now is the time to fight for justice. Here are some suggestions for how to move forward:
Listen : Understand that many Black and Brown people are struggling with enormous pain and despair. Open your hearts to them and listen when they speak — without expecting them to work for the benefit of your learning.
Learn : Read our recent statement highlighting AAUW's stand against racism and the Washington Post article by 2016–17 AAUW American Fellow alumnae Keisha Blain about the problematic history of policing in this country. AAUW will work to advance the systemic changes needed to create a fairer criminal justice system as a proud member of the Leadership Conference on Civil and Human Rights.
Speak Up : People of color often experience discrimination at the ballot box. This comes in the form of voting restrictions implemented under the guise of preventing "voter fraud," which is extremely rare. With a pivotal election ahead, persuading policymakers to expand voting rights is a powerful way to support marginalized communities. Other issues that disproportionately affect Black women and their families are student-loan debt, pay inequity and the lack of a livable minimum wage — all parts of AAUW's 2020 Gender Agenda you can take action on.
I'd also like to acknowledge that, as an organization, AAUW has its own work to do — and I'm committed to doing it. So I'll be listening, learning and speaking up right alongside you.
In solidarity and strength,
Kimberly Churches
Chief Executive Officer
---
Branch Highlights, 2019 – 2020

Unfortunately, the monthly Vienna Area Branch programs open to the public were cancelled for April and May. Below is a sample of other programs and activities that branch members enjoyed this year. Some were open to the public; all focused on supporting AAUW's mission and strategic plan.
Highlights include the following.
Among the monthly branch programs were the following:
Civil Rights in Alexandria, with Audrey Davis, Director of the Alexandria Black History Museum and historical consultant for the PBS drama, Mercy Street.
Women Entrepreneurs: Creating a Sense of Community, with Jen Morrow (see photo above).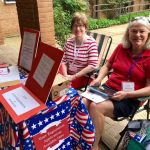 Last fall we participated in the AAUW Get Out The Vote effort by registering voters in Vienna. Branch members attended AAUW of Virginia State Lobby Day in Richmond in January, a session that coincided with the historic ERA vote. In addition, four of our members are part of the AAUW Capitol Hill Lobby Corps, which lobbies regularly when Congress is in session.
We met our goal for AAUW Funds through a combination of direct donations by members and a branch fundraiser featuring the Tastes of Italy.
Our members enjoyed social times such as our holiday luncheon, which also benefits the Fairfax County Women's Shelter. We have three book discussion groups as well as a Great Decisions group and a monthly movie meetup group.
For more information about the AAUW Vienna Area Branch, contact us.
---
Get Paid What You're Worth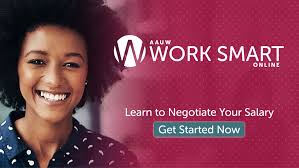 Take AAUW Work Smart Online, a free one-hour salary negotiation course. It is designed to help women negotiate for a new job, raise, or promotion.