November Branch Program:


Virginia's Family Leave Legislation


Thursday, November 21, 2019
6:30 p.m. Doors Open
7:00 p.m. Program Begins
Patrick Henry Library, 101 Maple Ave. E., Vienna
Paid family leave is an AAUW Public Policy Priority for 2019-2021. Working families need the opportunity to take paid leave to receive treatment for a serious illness, support a sick family member, or care for a new child. Where does Virginia stand on this issue?

Join us on November 21 to hear Briana Sewell of the Virginia Campaign for a Family-Friendly Economy summarize current Virginia law and proposed legislation on family leave. She will describe how this organization is working to advance meaningful legislation this year on paid family and medical leave and how we can help.
Program is co-sponsored by Patrick Henry Library and is free and open to the public.
---
AAUW Reacts to Stagnant Gender Pay Gap Numbers
AAUW Chief Executive Officer Kimberly Churches issued the following statement in September, 2019, in response to newly released U.S. Census Bureau figures showing that the gender pay gap remains unchanged.
"Pay equity has dominated headlines this year, but change has yet to reach our pocketbooks and bank accounts. Today's news is that women still make 82 cents on the dollar compared to men. And the numbers are dramatically worse for Black women (62 cents) and Latinas (54 cents) compared to white men.
"But there's nothing really new about that: These statistics have been stuck around the same levels for almost two decades. Based on historic rates, the gap won't close for 75 years – until 2093. And that's just too long. It's time we all stand up and demand basic fairness." Read more.
---
Get Paid What You're Worth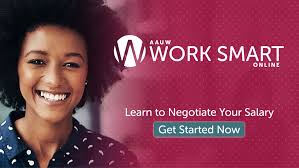 Take AAUW Work Smart Online, a free one-hour salary negotiation course. It is designed to help women negotiate for a new job, raise, or promotion.