AAUW Lobby Corps
AAUW Action Fund Capitol Hill Lobby Corps is the front line of AAUW's public policy. These member volunteers
fight for gender equity in education
champion moderate jurists for federal courts
support measures to improve economic security.
Every Thursday morning that Congress is in session, Lobby Corps members receive comprehensive training as well as briefings on that week's priority. They then proceed to selected congressional offices to educate policy makers. Members make more than 1200 visits each congressional session.
---
Lobby Day in Richmond and in Washington, DC
In January of each year AAUW members from around Virginia meet in Richmond to talk to our state senators and delegates on key issues.
This year AAUW of Virginia will hold the annual State Lobby Day at 8:30 a.m. on January 15, 2020. To participate, contact Susan Burk or Sylvia Rogers, AAUW of VA Public Policy Co-VPs, for information about overnight accommodations and agenda.
On September 26, 2019, Virginia AAUW members will travel to Capitol Hill to receive a briefing from AAUW staff followed by visits to representatives and senators.
---
Two-Minute Activist
Take action on issues impacting women and girls by joining AAUW's Action Network. All it takes is two minutes and an Internet connection.
As a Two-Minute Activist you will receive urgent email notices when your advocacy is needed most. We'll provide all the tools you need to call or send messages to your members of Congress.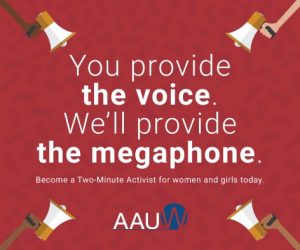 ---
For further information about any of these activities, please contact us and include "Lobbying" in the Subject field.