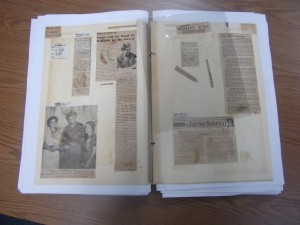 Vienna Area Branch members visit the AAUW archives in Washington one day each month to review AAUW manuscripts, publications, photographs, and audiovisual materials.
Some of the projects currently underway include the following:
Records relating to the Coretta Scott King Memorial Fund
AAUW's monitoring of Title IX
College and university accreditation files.
A local branch member with the group had the fun of finding an original letter from Rachel Carson among the materials. Carson, about to receive the AAUW Achievement Award, was writing in 1956 to thank AAUW for supporting her research.
Copies of the first and last pages of Rachel Carson's 1956 letter to AAUW.
For more information about our work with the AAUW Archives, please contact us and include "Archives" in the Subject field.